For an ENTIRE website containining these questions, videos of depositions, and transcripts of the answers from government representatives, see:
Truth in Taxation Hearings
http://truthintaxationhearings.famguardian.org
The list of questions below is intended to be used in a deposition or Due Process Hearing with the IRS or your state taxing authorities. It is derived and adapted from the
We The People Questions produced for the 27-28 February 2002 Truth in Taxation hearing in Washington, D.C. at the Washington Marriott Hotel and is a superset of those questions. The We The People questions were so good at exposing scandal within the U.S. government relating to the income tax that the IRS and the DOJ refused on repeated occasions to appear to answer the questions, in one case reneging on a written agreement and creating a big public embarrassment! Therefore, these questions can be very powerful tools to keep the government scared and on the defensive if you use them during the discovery phase of your own tax litigation or whenever you file a tax return by attaching them with the evidence in electronic form. You can obtain the complete transcript, audio testimony, video testimony, the questions, and the evidence in electronic form from the We the People website on four CD's for the very reasonable price of just $29-a bargain!. The electronic transcript and video and evidence is so compelling that we believe it would make an excellent attachment to a zero income tax return if you are still filing. Ordering the CD set is an absolute MUST, and you can be sure that the government will try to shut this source down as quickly as possible because it is so compelling, so don't delay in ordering. The CD's are very well put-together, funny, riveting, and extremely compelling.
At the end of our version of the questions appears a number, for instance "WTP #256" means We The People Question #256 from the hearing held 27-28FEB2002 in Washington D.C. These numbers are included so that if you have the CD-ROM or video tape of that proceeding obtainable from the We The People Website, you can correlate our question with theirs.
The We the People Truth in Taxation Hearings was an attempt by Bob Schulz to exercise the First Amendment Right to Petition for grievances of the government. That absolute right is documented in:
Right to Petition, Form #05.049 (OFFSITE LINK)
The following publication was published after the conclusion of the hearings documenting what the IRS agreed to by their violations of the First Amendment Petition clause in REFUSING to show up to the hearing.
Statement of Facts and Beliefs Regarding the Right to Petition the Government For a Redress of Grievances
Below is additional background information about the hearing.
---
INDEX
#
Subject Area
Transcript
(right click to download)
Acrobat of WHOLE SECTION (right click and "Save As" to download)
#
Questions
Issues Addressed
1
LIABILITY

(3.97Mbytes)
49
Who has a legal obligation to pay the tax?
2
RIGHT TO LABOR

(8.89 Mbytes)
83
Is labor something that can be taxed?
What constitutes "income"?
3
JURISDICTION

(5.68 Mbytes)
43
Does the IRS have legal jurisdiction inside the 50 states?
4
5th AMENDMENT

(3.11 Mbytes)
23
How can the government force you to waive your Constitutional rights?
5
FIRST AMENDMENT AND SOCIALISM

(11.53 Mbytes)
39
Do we live in a socialist democracy instead of a constitutional republic? Does our government infringe on our rights and freedoms and conflict with Christian religion?
6
16th AMENDMENT

(68.07 Mbytes)
109
Was the 16th Amendment properly and legally ratified?
7
4th AMENDMENT
Part 1
Part 2
Part 3

(7.19 Mbytes)
85
How can the IRS levy, search, or seize assets without warrants or court involvement?
8
COURTS ARE CLOSED

(5.99 Mbytes)
33
The courts work in complicity with DOJ/IRS to deny due process.
9
AMBIGUITY OF LAW

(3.83 Mbytes)
27
How can the Internal Revenue Code define anything if the word of includes is not used restrictively and if it doesn't define anything, how can we have a society of laws rather than of men?
10
PAPERWORK REDUCTION ACT,
ADMINISTRATIVE PROCEDURES ACT & REGULATIONS

(2.20 Mbytes)
40
Significant anomalies exist between the "laws" and the procedures of the IRS.
11
TAXABLE "SOURCES"

(5.76 Kbytes)
54
What "sources" of income are subject to tax and count as taxable income?
12
INDIVIDUAL MASTER FILES (IMF)

(2.31 Mbytes)
17
Evidence of fraud and falsification of taxpayer records by the IRS.
13
26 U.S.C. 6020(b) SUBSTITUTE FOR RETURNS

(8.25 Mbytes)
31
Evidence that IRS agents have no authority to create Substitute for Returns for Americans who are not "taxpayers" or who do not voluntarily pay Subtitle A income taxes, which are really not taxes, but "donations".
14
CITIZENSHIP

(12.01 Mbytes)
99
Are you a "citizen of the United States" or a "U.S. citizen" under federal statutes and "acts of Congress"? Most Americans aren't, and have also been filing the wrong tax form for years. The IRS hasn't corrected this situation because they benefit too much financially to correct it.
Total Original WTP Questions
561
Total Current Questions
732
Total Author Questions
294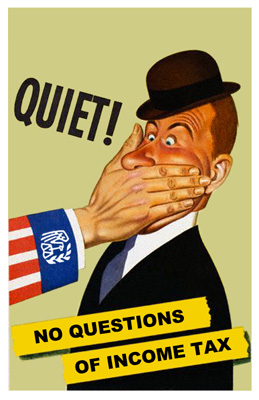 ---
WHY ARE THESE QUESTIONS IMPORTANT AND EVEN NECESSARY?
Reason #1: A disease afflicts our body politic: Greed and covetousness for money and power by corrupted government officials has manifested itself in lawless and abusive government behavior on a very large and oppressive scale

"This case involves a cancer in our body politic [democracy, greed and wickedness and covetousness of our elected and appointed servants on a massive scale, see James 1:19-27 and Psalms 94:16-23]. It is a measure of the disease which afflicts us...Those who already walk submissively will say there is no cause for alarm. But submissiveness is not our heritage. The First Amendment was designed to allow rebellion to remain as our Heritage. The Constitution was designed to keep the government off the backs of the people. The Bill of Rights was added to keep the precincts of belief and expression, of the press, of political and social activities free from surveillance. The Bill of Rights was designed to keep agents of government and official eavesdroppers away from Assemblies of People. The aim was to allow men to be free and independent to assert their rights against government. There can be no influence more paralyzing of that objective than Army [government] surveillance. When an intelligence officer looks over every nonconformist's shoulder in the library, or walks invisibly by his side in a picket line, or infiltrates his club [or forces him to submit an income tax return and then scrutinizes it for personal information or illegal activity], the America once extolled as the voice of liberty heard around the world no longer is [408 U.S. 1, 29] cast in the image which Jefferson and Madison designed, but more in the Russian [Communist!] image, depicted in Appendix III to this opinion."
[Laird v. Tatum, 408 U.S. 1; 92 S.Ct. 2318 (1972)]

_________________________________________________________________

"We have no government armed with the power capable of contending with human passions unbridled by morality and religion. Avarice [greed], ambition, revenge, or gallantry [debauchery], would break the strongest cords of our Constitution as a whale goes through a net. Our Constitution was made only for a moral and religious people. It is wholly inadequate to the government of any other."
[John Adams, 2nd President]

Reason #2: Obvious efforts by the government to obstruct justice and cover up the truth about their misdeeds

"He who covers his sins will not prosper, but whoever confesses and forsakes them will have mercy." [Prov. 28:13]

[COMMENT: If a federal judge tries to put a protective order on you or refuses to admit evidence during trial related to asking these questions of the government, then they are covering sins and will be condemned by God according to His law above. See also Joshua 7:11-26 and John 3:18-21 . Furthermore, judges or U.S. Attorneys who would advocate suppressing this information are violating the intent of the First Amendment Petition Clause, which requires the government to allow members of our society to petition for redress of wrongs by the government in order to keep the government accountable to the sovereign people that they serve and are subordinate to. The wrongs can't be redressed unless and until they can first be discovered and exposed, and especially to juries. Advocacy by judges, federal courts, and U.S. attorneys in encouraging discovery using these questions is therefore the first and and most important requisite towards fulfilling the requirements and intent of a First Amendment petition for redress of grievances. It is also a necessary prerequisite to them fulfilling the legal fiduciary duty they have to the American public as described in sections 2.1 and 4.1 of our Great IRS Hoax book. ]
ORDERING
This set of questions makes a good reliance defense. A reliance defense is a package of evidence you send in with your LAST tax return to indicate and explain why you believe you are no longer liable for the federal income tax and why you choose to no longer file returns. In the package, you ask the government to refute the evidence and tell them that unless and until they do, you will no longer file or pay income taxes. You can order your copy for your "reliance defense" from:
EVIDENCE SOURCES:
Supreme Court Cites: Findlaw, http://caselaw.findlaw.com/court/us-supreme-court
Circuit and District Court Cites:
U.S. Code: Cornell University, https://www.law.cornell.edu/uscode/text/
Code of Federal Regulations (CFR): CFS Income Tax CD-ROM, http://www.taxtools.com/products_tt.aspx
Legal Dictionary Cites: Black's Law Dictionary, Sixth Edition, West Publishing, ISBN 0-314-76271-X.
Dictionary Cites: Webster's Ninth New Collegiate Dictionary, 1983, Merriam-Webster, ISBN 0-87779-506-6.
Bible Quotes: Blue Letter Bible, http://www.blueletterbible.com
Sixteenth Amendment Evidence:

The Law That Never Was

, Bill Benson.
Treasury Decisions: Federal Depository Library, University of San Diego (USD); San Diego, California.
Quotes from Thomas Jefferson: University of Virginia Library, https://guides.lib.virginia.edu/TJ
QUESTIONERS AT THE HEARING INCLUDED:
Robert Schulz, Chairman of the We the People Foundation. Phone: 518-656-3578. bob@givemeliberty.org.
C. Hansen, one of the contributors to this website.
WITNESSES WHO APPEARED AT THE HISTORIC HEARING INCLUDED:
Larry Becraft. Constitutional Law and Tax attorney practicing in Alabama. Runs the Dixieland Law Journal website at http://fly.hiwaay.net/~becraft/. Email: becraft@hiwaay.net
Paul Chappell, retired Tax attorney with 30 years experience; 1406 Princess Anne Street; Fredericksburg, Virginia 22401;Phone: 540-374-1283; Email: pclaw@crosslink.net. Worked as a court clerk in tax court for 10 years.
Noel Spade, San Diego Tax Attorney with 20 years experience; 858-350-8718.
Irwin Schiff. National tax expert. Runs the website at http://www.paynoincometax.com. Author of several tax books, including:

The Social Security Swindle.
The Federal Mafia.

Joseph Banister, Ex. IRS Criminal Investigator with 5 years experience, CPA. Runs the website entitled Freedom Above Fortune at http://www.freedomabovefortune.com. Phone: 408-260-9819. jbanister@sbcglobal.net
Sherry Peel Jackson, Ex. IRS Examiner with 10 years experience, CPA, and Certified Fraud Examiner. spjcpa@mindspring.com
John Turner, Ex. IRS Collection Officer with 10 years experience. Quit the IRS within a few months of learning the truth about how the IRS illegally enforces federal taxes. Phone: 530-872-8068. P.O. Box 612;Paradise, CA 95967. Email: time4jt@worldnet.att.net.
Victoria Osborne, Forensic Accountant with three years experience; http://www.tpirsrelief.com (now defunct); tpi@tpirsrelief.com; 800-447-6181.
PROBLEM/CORRUPTED EVIDENCE:
Exhibit 022, WTP Question 48, our question 3.17.