When judges tell jurors they must take an "oath" to follow the judge's "instructions" on the law, please remember that judges simply lie to jurors. Also consider that since judges have given themselves absolute immunity from liability for their wrongful acts, they tend to become absolutely irresponsible.
Strong words? Yes. Exaggeration or untrue? No.
Portland's federal Magistrate-Judge Donald C. Ashmauskas is one of those who sees no reason to tell jurors the truth about the power of the jury because the truth would rightfully limit his own power.
Judges who have no respect for truth are not reliable sources for information about the jury's power, rights and duty.
Juries have the right to judge the law as well as the facts and have a duty to protect our rights from the oppressive tendencies of government.
The jury's job is to render justice, not obedience.
On the other side of this leaflet is an official transcript that shows Magistrate-Judge Ashmanskas' attitude towards lying to jurors (thereby obstructing justice and tampering with the jury) in the judge's own words.
*******************************************************************************************
Page 1:
IN THE UNITED STATES DISTRICT COURT
FOR THE DISTRICT OF OREGON
Case No. 94—CV—1561 September 5, 1995
TERE BIPPES
Plaintiff,
v.
HERSHEY CHOCOLATE USA, a
division of Hershey Foods Corporation,
Defendant.
BEFORE THE HONORABLE DONALD C. ASHMANSFAS
Excerpt of Proceedings
APPEARANCES!
For the Plaintiff: Katitleen Hauisa
For the Defendant: Clay D. Crepe

*******************************************************************************************
Page 2:
1 THE COURT: I've looked at those
2 cases, obviously, more than once. I'm not
3 convinced there was —— of course we all lie.
4 Calling someone "a liar," is that defamatory per
5 se? We lie in a courtroom. I lie to jurors on
6 instructions sometimes. We lie during
7 negotiations. We lie in day-to-day life.
8 Look at Lying by Sis LaBock
9 (phonetic), who is the professor at I1ai~vard.
10 think that's the title, Lying -- but it's
11 interesting.
12 Well, enough said. We've got enough
13 court to do.
14 Thank you, Ms. Hansa and Mr. Creps.
15 (End of excerpt)
16
17 I HEREBY CERTIFY THAT THE FOREGOING IS A
18 TRUE AND CORRECT EXCERPT OF THE ORAL PROCEEDINGS
19 HAD IN THE ABOVE-ENTITLED MATTER.
20
21 DATED: 1-17-97
22
23
24
Bridget R. Hayes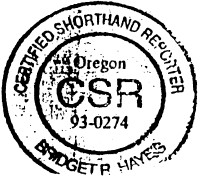 Go to: Legal Government Page