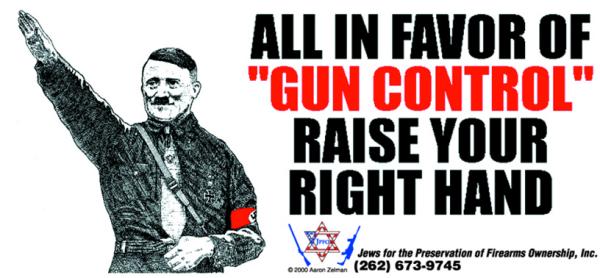 "Ted Kennedy's Car has killed more people than my gun."
Family Guardian Forums-require a free member account you can apply for yourself to post and in some cases read content
Sovereignty Education and Defense Ministry (SEDM) Forums (OFFSITE LINK)
This section is dedicated to fighting efforts to limit or control the use of guns in society. When people are killed by guns, the solution is not to outlaw guns but to punish the people who misused them to prevent that misuse.
All About Guns-Excellent Powerpoint presentation
Everything You Wanted to Know About Gun Control
Firearms and Freedom
Defense Dist: Home of the Wiki Weapon Project (OFFSITE LINK)- use a 3D printer to print your own gun
Minuteman Handbook (OFFSITE LINK)
Prager University (OFFSITE LINK)
Charleton Heston's "A Torch With No Flame" -Excellent! Media Player video
Gun Control Witness -Excellent! Media Player video
Criminals Support Gun Control!-excellent video Firearms Refresher Course
Ted Nugent on Gun Control-excellent
A Dream Came True: Home Made Full Auto Crossbow! (OFFSITE LINK) -Joerg Sprave

The Garden of Gethsemane and the Second Amendment

-sermon about gun control
Why Good People Should Be Armed (OFFSITE LINK) -Josie the Outlaw
Guns (Virtual State of the Union 2013) (OFFSITE LINK) -Bill Whittle
The Truth About Gun Control (OFFSITE LINK) -Josie the Outlaw
Number One With a Bullet (OFFSITE LINK) -TruthRevoltOriginals
Your Second Amendment (OFFSITE LINK) -TruthRevoltOriginals
Demand a Real Plan -the reason for the Second Amendment is to protect us from GOVERNMENT democide, not to protect us from each other
Hitler Survivor Condemns Gun Control "KEEP YOUR GUNS, BUY MORE GUNS" - Katie Worthman
Obama Rebrands Gun Control (OFFSITE LINK) -Brother Nathaniel
An AR-15 in Every Home: 3D Gun Printer Cody Wilson on Resistance, Trump, the Media, & More (OFFSITE LINK) -ReasonTV
Quote of the Century on Gun Control-Noah Webster
Who was that Fat Lady?-Edgar Steele on the governments unconstitutional actions relating to gun control
Second Amendment Gone-destroyed without a whimper!
170 Million Reasons to Own A Gun-enlightening
Nazi Gun Law-right here in the USA! Joyce Rosenwald
Is Gun Control a Nazi Scheme?-Dr. William Pierce
Great Britain and Gun Control-Antishyster Magazine
Gun Articles- Stephen P. Hallbrook
The British Study- Here is a link to a very important study of the effect of firearms ownership. Britain, with gun control, has a higher crime rate than we have. Ban guns and crime increases!
Trust the People: The Case Against Gun Control- CATO Institute Report on gun control
Alan Keys on the Second Amendment- In July 2000, Dr. Alan Keyes, Libertarian candidate for President of the United States, gave a profound speech about the Second Amendment; read it here.
Raging Against Self-Defense-Interesting psychological study of anti-gun advocates
Do Gun Laws Reduce Crime?-An interesting and revealing study into the subject you aren't likely to hear from the media.
A Biblical Response to Those Who Say We Should Disarm-Mercy Seat Christian Church
Flashlight Gun-Every American should have one of these
Printz v. U.S., 521 U.S. 898, 117 S.Ct. 2365, 138 L.Ed.2d 914 (1997) -background on gun registration
Annotated Second Amendment (OFFSITE LINK) -right to bear arms (NOT "firearms", but ARMS)
Annotated Fifth Amendment (OFFSITE LINK) -cannot be required to incriminate self. Info on 4473 form incriminates
Gun Tracing
Publications
Forms
Laws

26 U.S.C. §5848-Prohibits criminal prosecution for PAST crimes but not FUTURE crimes based on information in the national firearms database. Hence, it DOES violate the Fifth Amendment. The National Firearms Act therefore can only apply to those NOT protected by the Constitution, and therefore domiciled on federal territory and the exclusive jurisdiction of Congress.
BATF Laws Page (OFFSITE LINK)
BATF Codified Regulations (OFFSITE LINK)
Federal Firearms Regulations Reference Guide (OFFSITE LINK)-ATF Pub. 5300-4.
National Firearms Act
When the blackbirds go aloft
Insidious silence in the air
The chosen Trojan choppers
Spill storm troopers here and there

And in the twinkling of an eye
The world we know will change
For every man not in their grasp
Is a target within range

The king is in his court lads
So subjects now are we
Beneath the mire of martial law
And drowned by tyranny

Most wait in line for handouts
Much thankful for their prize
But the wolf comes in sheep's clothing
And you cannot believe his lies

So a few stand up for freedom
And are quickly dragged away
To deal swiftly with the rebels
Shall be the order of the day

But as once before we won our freedom
We shall take up arms again
And through patriotic bloodshed
Stand together as free men

"If you take out the killings, Washington actually has a very low crime rate." -- Marion Barry, four-time mayor of Washington, D.C.
"Gun Control? It's the best thing you can do for crooks and gangsters. I want you to have nothing. If I'm a bad guy, I'm always gonna' have a gun. Safety locks? You pull a trigger with a lock on, and I'll pull the trigger. We'll see who wins." -- Former mobster Sammy "The Bull" Gravano, who testified against John Gotti (his former boss), admitted to killing nineteen people, and is now living under the Witness Protection Program.
"A free people ought not only to be armed, but disciplined; to which end a uniform and well-digested plan is requisite; and their safety and interest require that they should promote such manufactories as tend to render them independent of others for essential, particularly military, supplies ...". - George Washington, in his First Annual Address, January 8, 1790.
"What, Sir, is the use of a militia? It is to prevent the establishment of a standing army, the bane of liberty. ... Whenever Governments mean to invade the rights and liberties of the people, they always attempt to destroy the militia, in order to raise an army upon their ruins." (Rep. Elbridge Gerry of Massachusetts, spoken during floor debate over the Second Amendment, I Annals of Congress at 750, August 17, 1789)